The Tryall Club - Luxury Villa Rentals in Montego Bay, Jamaica
Experience the Tryall Club at one of our beautiful Jamaica luxury vacation rentals
The Tryall Club, Jamaica's premier private club, offers guests the luxury and hospitality of a true villa lifestyle. Set amid 2,200 lush acres, the Tryall Club provides all the ingredients necessary for an exquisite experience: world-renowned golf, private beachfront, exceptional cuisine, and the best views in Jamaica.
Need something during your visit - Just ask. The Tryall Club's friendly staff understands service, blending civility with the warmth of the Jamaican people. The experienced team includes more than 600 employees, many of whom have been with the Tryall Club for decades.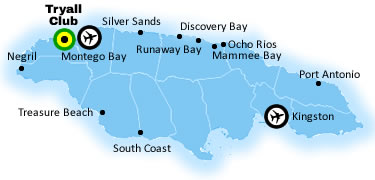 The Tryall Club is one of the Caribbean's legacy resorts, featuring 84 sumptuous private villas, each one completely distinct in design and layout. Each villa offers first-rate hospitality from a personal chef, housekeeper, laundress and gardener. At the Tryall Club, guests enjoy the lavish surroundings of a private luxury villa, but remain footsteps from a vibrant club atmosphere. A couple may choose a cozy one-bedroom retreat, while an extended family of several generations may opt for a 7 or 8-bedroom manor.
Tryall Club Membership...How it works

View Vacation Rentals in Tryall Villas or in Jamaica's other resort areas
Villas in Discovery Bay - Villas in Mammee Bay - Villas in Montego Bay
Villas in Negril - Villas in Ocho Rios - Villas in Port Antonio - Villas in Tryall
Villas in Runaway Bay - Villas in Silver Sands - Villas in South Coast
Click on the property links below to explore the vacation rentals and villas at Tryall Villas, Jamaica.
Results open in a new tab / window!