Port Antonio Jamaica Luxury Villas and Vacation Rentals
Experience Port Antonio on the island of Jamaica at one of our beautiful Jamaica luxury villa rentals
Port Antonio, Jamaica experts say, is the island's most beautiful corner.
Lush tree ferns right by the roadside, carved-out beaches white as sugar, and the towering backdrop of the Blue Mountains where the world's finest coffee grows.
There are spectacular things around the beautiful twin harbor's and Navy Island. Errol Flynn turned the bamboo rafts, used to transport bananas on the Rio Grande, into a must-do for visitors. The ruins of Folly House, built for a Tiffany heiress, evokes turn-of-the-century splendor. The Blue Lagoon, so deep it's believed to be bottomless. Reach Falls one of the Caribbean's most spectacular unspoiled locales. The Athenry plantation has caves where Arawaks lived before Columbus.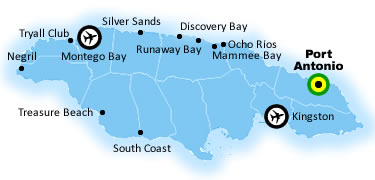 Deep-sea anglers know this area for landing big blue marlin, nature lovers climb the hills to the Blue Mountain peak. In town there's Georgian architecture, a friendly market, and a sleepy Victorian port where bananas were first exported.
Movies from "Clara's Heart" to "Club Paradise" to "Cocktail" were filmed here, and Port Antonio remains a secret getaway for stars from Broadway to Hollywood.
It's a secret you can share!
View Vacation Rentals in Port Antonio or in Jamaica's other resort areas
Villas in Discovery Bay - Villas in Mammee Bay - Villas in Montego Bay
Villas in Negril - Villas in Ocho Rios - Villas in Port Antonio - Villas in Tryall
Villas in Runaway Bay - Villas in Silver Sands - Villas in South Coast
Click on the property links below to explore the vacation rentals and villas available in Port Antonio, Jamaica.
Results open in a new tab / window!