Montego Bay Jamaica Villas and Vacation Rentals
Experience historic Montego Bay Jamaica in a beautiful ocean front villa
Montego Bay may be the second-largest city, but it's first among resort destinations.
Swinging with sports and hot spots, MoBay is the complete resort destination. Beaches are only a hop, skip and jump from the international airport. Everything is close by: restaurants, reggae clubs and discos; shopping in elegant stores and colorful markets; championship golf courses, great scuba diving, and snorkeling.
Within a half-hour's drive are private Montego Bay villas rentals and condos for every taste and budget. From your villa or condo much is possible - whether or not you opt for a rental car. There is history around you in forts, plantation houses and 18th-century churches; a bird sanctuary, art galleries, straw market, Doctor's Cave Beach, and tranquil mountain retreats to escape to. Or just hang out on your villa's private terrace.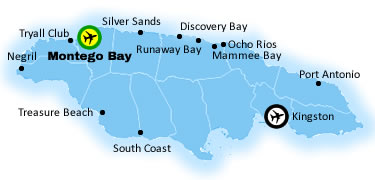 So unpack, unwind and have some fun.
Your complete vacation is about to start.
View Vacation Rentals in Montego Bay or in Jamaica's other resort areas
Villas in Discovery Bay - Villas in Mammee Bay - Villas in Montego Bay
Villas in Negril - Villas in Ocho Rios - Villas in Port Antonio - Villas in Tryall
Villas in Runaway Bay - Villas in Silver Sands - Villas in South Coast
Click on the property links below to explore the vacation rentals and villas available in Montego Bay, Jamaica.
Results open in a new tab / window!