Luxury Villas for Rent in Silver Sands and Rio Bueno, Jamaica
Experience Silver Sands and Rio Bueno in one of our beautiful Jamaica luxury villa vacation rentals
Silver Sands/Rio Bueno, where the English carved out plantations in the 17th Century, today's gracious and comfortable vacation villas and homes cater to the visitor. Duncans, a tiny, colorful village, almost hides the entrance to the glorious beach of the Silver Sands Club and its wealth of private homes. Barely forty-five minutes from Montego Bay, it's still an undiscovered paradise.
Continue east to Rio Bueno and find art galleries and artists' studios in the houses of 18th Century merchants. It's a lazy, friendly place for beach and snorkeling, buying fish from dugout canoes... and taking in sunsets too beautiful to miss.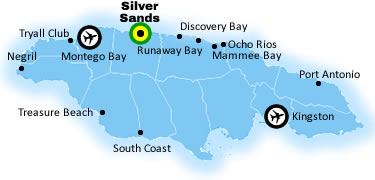 Along this stretch of coast and in the hills behind, are plantations to explore, while golf and tennis are in easy reach.
But many visitors just choose to settle in and take a dividend in tranquility .
View Vacation Rentals in Silver Sands or in Jamaica's other resort areas
Villas in Discovery Bay - Villas in Mammee Bay - Villas in Montego Bay
Villas in Negril - Villas in Ocho Rios - Villas in Port Antonio - Villas in Tryall
Villas in Runaway Bay - Villas in Silver Sands - Villas in South Coast
Click on the property links below to explore the vacation rentals and villas available in Silver Sands, Jamaica.
Results open in a new tab / window!