Discovery Bay Jamaica Villas and Vacation Rentals
Experience Discovery Bay on the island of Jamaica at one of our beautiful Jamaica luxury villa rentals
Discovery Bay is rich in history, a tapestry of color and mystique, and have hosted visitors for more than 500 years?
Columbus was the first visitor. In 1494 he sailed into Discovery Bay, hence the name. Its green hills, clear turquoise waters with perfect sand probably lured him. Here, on one of the island's finest beaches are villas built by Jamaicans who rent to visitors.
At the other end of the Bay is a museum with historical artifacts.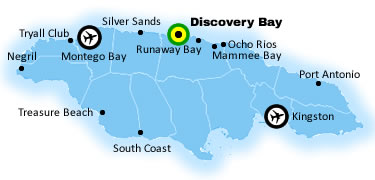 Further east is Runaway Bay. The white sand beach is a perfect place for lazy days. There's excellent scuba diving, snorkeling, horseback riding, tennis and a challenging golf course facing the sea. There are beachside places to eat out and nearby hotels for evening activities.
This part of Jamaica is like a summer beach community; visitors return year after year.
View Vacation Rentals in Discovery Bay or in Jamaica's other resort areas
Villas in Discovery Bay - Villas in Mammee Bay - Villas in Montego Bay
Villas in Negril - Villas in Ocho Rios - Villas in Port Antonio - Villas in Tryall
Villas in Runaway Bay - Villas in Silver Sands - Villas in South Coast
Click on the property links below to explore the vacation rentals and villas available in Discovery Bay, Jamaica.
Results open in a new tab / window!