Negril Jamaica Villas, Cottages, Condos and Vacation Rentals
Experience Negril on the island of Jamaica at one of our beautiful Jamaica luxury villa rentals
Negril is the capital of casual and the unofficial
headquarters for Jamaica's fun-in-the-sun vacationers.
Enjoy seven miles of white-sand beach and five miles of majestic waterfront cliffs.
There's a world of water sports, some of the finest reggae performances you can find, good places to eat, and gathering spots for watching Jamaica's most spectacular sunsets. But most people just choose to hang out, recharging batteries, renewing the spirit, taking time to be themselves again.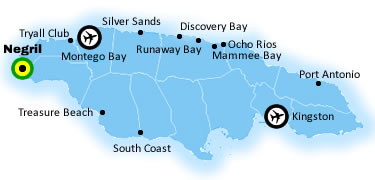 Negril's private places to stay are not generally millionaires' mansions. They're simple, very private clusters of one-story cottages or individual suites and villas (by law, nothing is taller than the highest palm tree).
So wriggle your toes in the surf or sip a refreshing tropical drink while watching a golden sunset from your perch along the dramatic cliffs.
Feel relaxed yet?
"No problem, Mon"
View Vacation Rentals in Negril or in Jamaica's other resort areas
Villas in Discovery Bay - Villas in Mammee Bay - Villas in Montego Bay
Villas in Negril - Villas in Ocho Rios - Villas in Port Antonio - Villas in Tryall
Villas in Runaway Bay - Villas in Silver Sands - Villas in South Coast
Click on the property links below to explore the vacation rentals and villas available in Negril, Jamaica.
Results open in a new tab / window!