Villas for Rent on Jamaica's South Coast & Treasure Beach
Experience the South Coast on the island of Jamaica at one of our beautiful luxury villa vacation rentals
South Coast, White House, & Mandeville, the "quiet side" of Jamaica, boasts natural attractions and wildlife refuges, including the Long Bay Morass, Alligator Pond, a refuge for the rare, protected manatee and crocodiles. (Jamaica's crocodiles are a docile bunch that feed mainly on fish.)
At Black River, boat trips take visitors along Jamaica's longest river into a freshwater swamp filled with herons, snowy egrets and more of the island's crocodiles--many of which are so familiar to guides they've been given names like George and Fred.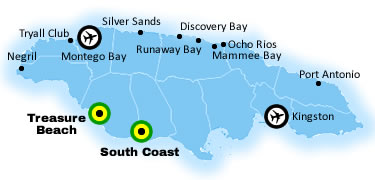 The road between Mandeville and Black River passes through Bamboo Avenue, a two-mile-long green tunnel of century-old bamboo groves.
Detour to the Appleton Estate's sugar factory and rum distillery, and YS Falls, where a series of pools provide ideal swimming.
The Treasure Beach area, between Black River and Alligator Pond, is another excellent spot for swimming one of Jamaica?s most desirable out-of-the-way vacation spot.
Come ~ Here is where you'll discover another world.
View Vacation Rentals in Jamaica's South Coast or in Jamaica's other resort areas
Villas in Discovery Bay - Villas in Mammee Bay - Villas in Montego Bay
Villas in Negril - Villas in Ocho Rios - Villas in Port Antonio - Villas in Tryall
Villas in Runaway Bay - Villas in Silver Sands - Villas in South Coast
Click on the property links below to explore the vacation rentals and villas available in the South Coast, Jamaica.
Results open in a new tab / window!