Mammee Bay Villas and Vacation Rentals
Experience Mammee Bay and Old Fort Bay in a luxury Jamaica villa rental
Mammee Bay is an enclave of private homes in green grounds with a splendid white sand beach, just a short drive west of Ocho Rios.
Here, celebrities from Elizabeth Taylor to the Rolling Stones have found shelter, drawn to Mammee Bay, because it offers a rare combination of its own quiet luxury with the Ocho Rios shopping, dining, and nightlife only ten minutes away.
A villa in Mammee Bay provides a wonderful base camp for going on a shopping spree, watching a polo match or finding your own special waterfall.
Quite often, it turns out to be a place you can't be coaxed into leaving.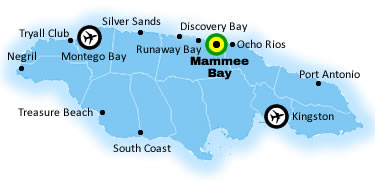 View Vacation Rentals in Mammee Bay or in Jamaica's other resort areas
Villas in Discovery Bay - Villas in Mammee Bay - Villas in Montego Bay
Villas in Negril - Villas in Ocho Rios - Villas in Port Antonio - Villas in Tryall
Villas in Runaway Bay - Villas in Silver Sands - Villas in South Coast
Click on the property links below to explore the vacation rentals and villas available at Mammee Bay, Jamaica.
Results open in a new tab / window!