Luxury Villas of Runaway Bay Jamaica - Vacation Rentals
Vacation rentals in Runaway Bay Jamaica - Luxury Villas for rent
Runaway Bay with its white sand beach is a perfect place for lazy days. There's excellent scuba diving, snorkeling, horseback riding, tennis and a challenging golf course facing the sea. There are beachside places to eat out and nearby hotels for evening activities.
Runaway Bay offers a very different vacation experience from that of larger resorts such as Ocho Rios and Montego Bay. Whilst providing a tranquil setting to kick back and relax, Runaway Bay is a short journey to some of the north coast's main attractions and Ocho Rios.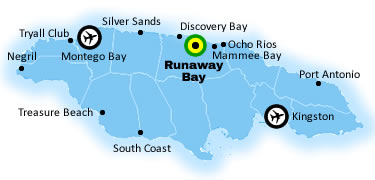 This part of Jamaica is like a summer beach community; visitors return year after year.
View Vacation Rentals in Runaway Bay or in Jamaica's other resort areas
Villas in Discovery Bay - Villas in Mammee Bay - Villas in Montego Bay
Villas in Negril - Villas in Ocho Rios - Villas in Port Antonio - Villas in Tryall
Villas in Runaway Bay - Villas in Silver Sands - Villas in South Coast
Click on the property links below to explore the vacation rentals and villas available in Runaway Bay, Jamaica.
Results open in a new tab / window!